Jonathan and Rosalie's Tropical Paradise Engagement in Hawaii
Jonathan and Rosalie have been going out for two-and-a-half years now. They met in California, where they both live and grew up. This trip was meant to celebrate her finishing grad school in Occupational Therapy. She has been "subtly hinting" for him to propose for months now. (She even elbowed him a couple times as: "When are you proposing, bud?" He gave me some smiles.)
They went and picked out the ring together – so she knew it was coming soon. But he had made it seem like it wasn't going to happen in Hawaii because he had a friend who proposed in Hawaii and he didn't want to copy him. All of that was just to throw Rosalie off his tracks.
She was genuinely surprised. All 40-somewhat people at the waterfall saw and some clapped. She kept saying, "No, no, no, you're kidding!" And the guy behind us kept saying, "Yes, yes, yes, girl!"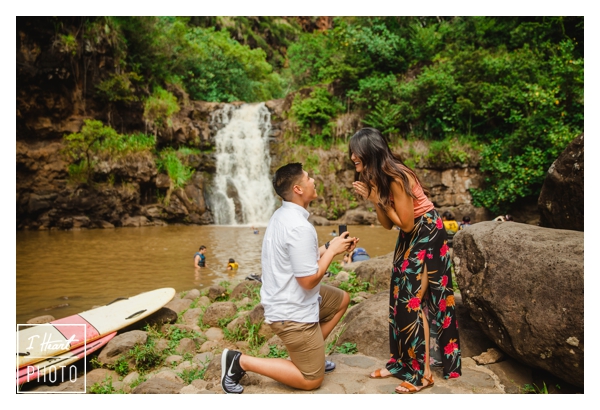 They leave Saturday and have a bunch of plans until then. They were going to head to Haleiwa Bowls for an acai bowl right after the proposal. This is Jonathan's first time in Hawaii and Rosalie's 2nd time. They plan to go ziplining, touring the Jurassic Park set at Kualoa, and watching the fireworks at the Hilton on Friday night. They kept mentioning how the hike there almost felt like they were in the Jurassic Park movie.
See more of their gorgeous photos under the cut.
Proposal Planners: The Heart Bandits